Get Approved† for the Credit You Need in Less Than 60 Seconds with the Applied Bank® Secured Visa® Card!
The Applied Bank® Gold Preferred® Secured Visa® Credit Card can be used at all of your favorite locations including grocery stores, gas stations, discount stores, ATMs and online!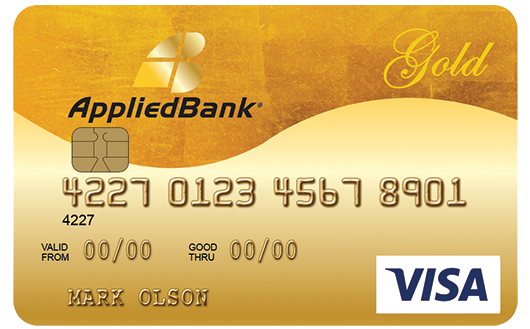 A REAL Visa® Credit Card with Automatic Reporting to All Three National Credit Bureaus

Low Fixed Interest Rate

Low 9.99% fixed APR with NO Application Fee and NO Penalty Rate

Refundable Security Deposit

Activate Today with a refundable Security Deposit, Minimum $200, Maximum $1,000. Increase your credit limit up to $5,000 by adding additional deposits any time after your application has been approved.

Online & Mobile Banking

Access your account online and via your mobile device from almost anywhere. It's easy, fast and secure! Pay your credit card bill, check your balance, monitor your credit availability and much more.

Account Security

The Applied Bank® Secured Visa® Card has embedded chip technology for enhanced security and protection when making purchases at chip-enabled merchant terminals.
Approval is GUARANTEED - No Credit Check or Minimum Credit Score Required†